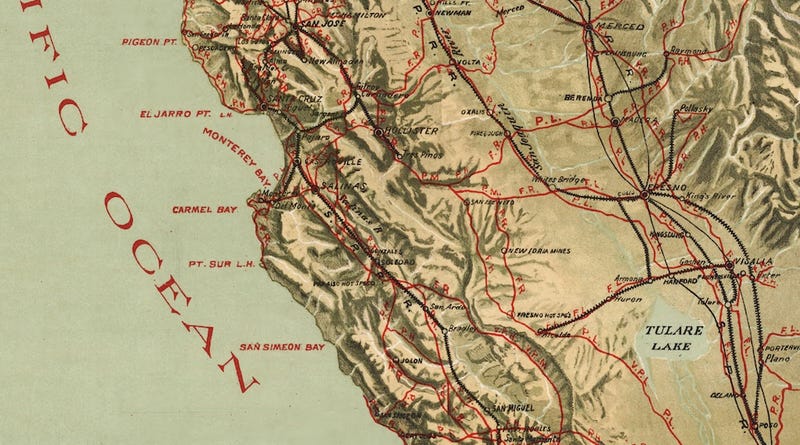 If you're a time traveler who's looking for a good cyclist's map of California in the 1890s, well, today's your lucky day.**
Rebecca Onion over at Slate's The Vault history blog has found this beautiful 1895 map of California that rated the state's major roads and their suitability for bicycles. Before the dawn of the automobile, a good road was indeed hard to find. Especially if you were looking to make a long-distance trek in a part of the country that's known for its valleys and mountains.
The 1895 map rated each road for its condition: Good (G), Fair (F), Poor (P), and Very Poor (VP), as well as rating its grade: Level (L), Rolling (R), Hilly (H), and Mountainous (M). Even a cursory glance at the map below shows that a good, flat road was rare — especially outside of California's urban areas.
One thing that's easy to forget here in the 21st century — where roads are often unjustly seen as the exclusive domain of automobiles — is that pedestrians and bicyclists alike used to feel perfectly at home on our nation's roadways. In fact, the "Good Roads Movement" of the 1890s was spearheaded by cyclists!