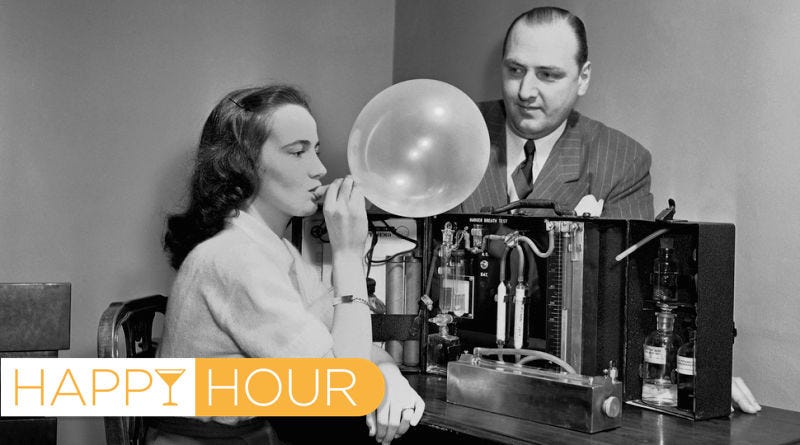 Drunk driving combines two of America's favorite pastimes: getting absolutely hammered and driving an automobile. But before the invention of the modern breathalyzer in the 1950s, determining if someone was too intoxicated to operate a motor vehicle was incredibly subjective. It took decades for law enforcement technology to catch up with one of our most pervasive crimes.
Welcome to Gizmodo's Happy Hour. Substance abuse for nerds.
Before the advent of the car, being drunk was a relatively minor nuisance for society at large. Most of the time, imbibing too much of your preferred poison did little to put strangers in harm's way. The automobile, with its incredible speed and considerable weight, changed all that. Today, roughly 30% of America's traffic fatalities involve a drunk driver. Back in the 1950s and '60s, that percentage was closer to 50%.
Those staggering numbers kicked off the pursuit of a simple device, one that could determine any defendant's guilt with the push of a button. That was the hope (and fear) of people who were fighting over the development of the very first breathalyzer technologies.
The Bad Old Days
After World War I, the car was becoming increasingly popular on American roads. What had once been a plaything of the rich was quickly finding its way into the hands of people with more modest incomes. And despite the passage of alcohol prohibition in 1920, more and more Americans were getting drunk before sliding behind the wheel.