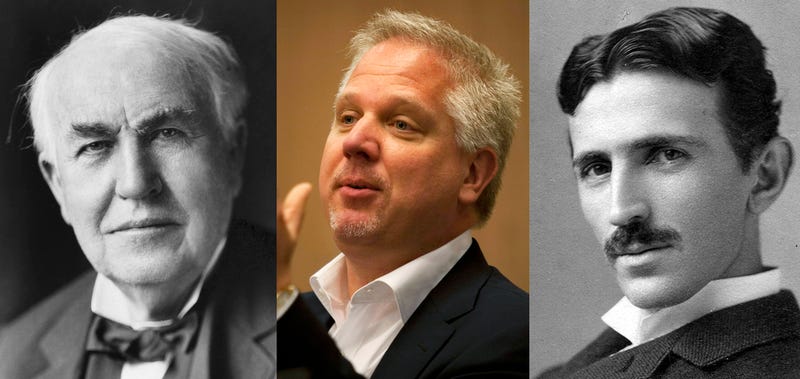 Former Fox News TV personality Glenn Beck is really sick of talking about politics. So what rustles his jimmies these days? The mythologized feud between Nikola Tesla and Thomas Edison. Beck even has a movie in production about Edison that he hopes will "expose the truth" about this "bad man."
From National Review:
Another film will "expose the truth" about Thomas Edison, a villain Beck thinks has gotten a break from historians and whose real story demonstrates our flawed understanding of the 20th century. Though remembered as "this nice, kind of, good old Thomas," Beck explains, "he was really a bad man who was electrocuting animals." Edison,"was absolutely on the wrong end, and luckily for him the story ended happily with his name being taken off his own company and given to GE," he says. "And all the people he tried to destroy and screw — he was screwed." Beck is getting animated. "In the end, he was screwed, and with the same tactics he used on everybody else. I think that's the story that needs to be told about Thomas Edison: He was a bad man."
The National Review post fails to explain if this is going to be a documentary or a dramatic feature, but really, either one is going to be amazing.
Beck doesn't explicitly call out who screwed Edison nor who Edison screwed, but judging by the December 2, 2013 episode of his web show, we can guess there will be plenty of Tesla-worship.
Beck raves about a fantasy world where Tesla's experiments in wireless energy have been embraced and brought to market:
My iPad would never go dry. I'd never have to plug it in because he would just be sending electricity concentrated through the air. Well, when he started these experiments, it worked so well that they kicked them out of Colorado.
Leaving aside the fact that Tesla was never "kicked out" of Colorado, I can't imagine that sending concentrated electricity through the air would go over that well with Beck's conspiracy-minded crowd.
But nonetheless, Beck thinks that embracing Tesla's experiments will bring Americans nothing less than the techno-utopian future we've all been waiting for. No joke. Provided we support the right kinds of government-granted monopolies like patents.