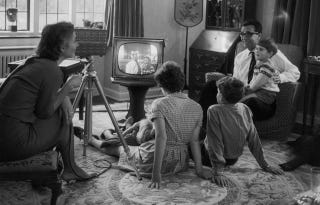 The AMC show Mad Men is in its final season, with its mid-season finale (yeah, I don't know what that means exactly either) airing this past Sunday. The show started with 1960 as its backdrop, and we now see characters in the world of 1969. A lot changed in that decade and, of course, it's a fictional representation of history. But in the real world of 1960, people were making their own predictions for what was to come one decade hence.
Today we have a few of those predictions from the January 3, 1960 issue of American Weekly magazine about what the world would look like by 1970. Video, for instance, as we see in the photo above from 1963, would make home movies that much easier. Sunday's episode was set during the July 1969 moon landing. But as we see from the predictions below, we may have landed on the moon—but neither Don Draper, nor his real world counterparts, got exactly what was promised by the end of the 1960s.
The prognosticators 0f American Weekly got a lot right, like advancements in video and satellite tech. But they were a bit too optimistic about other stuff, like speech recognition and weather control.