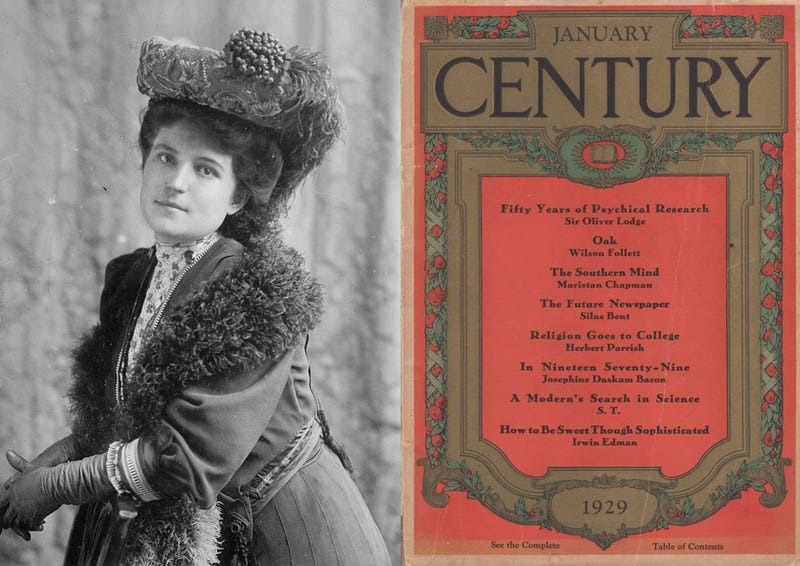 Josephine Daskam Bacon was an author known for her adventure serials that featured female protagonists. But in 1929, she took a break from her regular fiction writing and slipped on her futurist goggles for an article in Century magazine titled "In Nineteen Seventy-Nine." Bacon imagined just how much progress women will have made fifty years hence — and whether her granddaughter would be able to "have it all" as some people here in the future might say.
In the article, Bacon looks back at the generations of women that had come before her and pokes a bit of fun at the Hartford Woman's Friday Club, who in 1878 decided that "electricity was too uncertain and dangerous to be put to any practical use."
These women, Bacon explains, can be forgiven for not appreciating some aspects of the technological revolution that was to come.
A generation to which telephones and bathtubs were luxuries, which had never ridden in an automobile, to say nothing of an airplane, nor seen a moving picture, nor heard a radio concert, must be pardoned for its incredulity.
For many women at the turn of the 20th century, technology was interwoven into what it meant to be a feminist. Many utilized technology as a force for their cause — whether it was spreading their message through radio, driving cars despite ridicule from men, or even imagining the meal-in-a-pill as a great liberator from the drudgery of the kitchen.