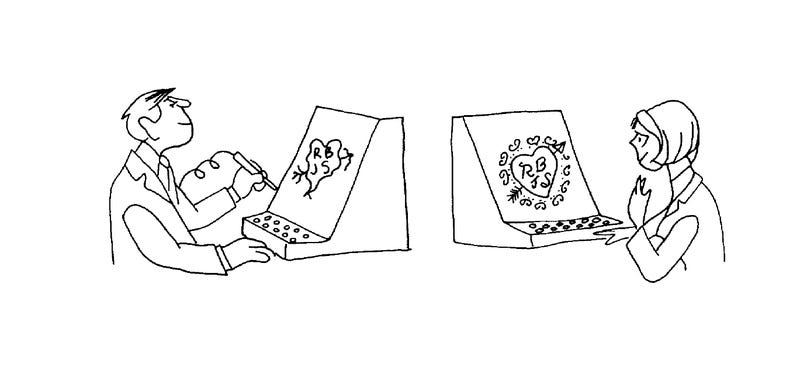 In a few years, men will be able to communicate more effectively through a machine than face to face. Sounds obvious today. But in 1968, a full year before ARPANET made its first connection? It was downright clairvoyant.
Sometimes a vision of the future can be so accurate that it's hard for those of us living in the future to understand what made it visionary in the first place. In the late 1960s the human side of networked computing wasn't a given. Few people looked at the hulking machines of the time and thought that they'd be great dating facilitators some day. The ARPANET was created for resource sharing between academics and other serious-minded people. In their early days, these networks weren't seen as a tool for something like ordering a pizza or sharing cat GIFs with someone halfway around the world.
Connecting People
The human element—the idea of average people interacting with computers, but more importantly with other people — was not a front-of-mind concern for the people who laid the foundation of the internet as we know it. Which is what makes a 1968 paper that predicted the extent of that human element so special.
The paper was written by J.C.R. Licklider and Robert Taylor, illustrated by Rowland B. Wilson, and appeared in the April 1968 issue of Science and Technology. The article includes some of the most amazingly accurate predictions for what networked computing would eventually allow. Granted, amazingly accurate with a retro-futuristic twist that keeps it firmly a product of its time.
Take the light-pen. The top image shows off a late-'60s light-pen and rather presciently imagines how computer-augmented romance might take off. The computer, we see, improves the man's drawing in such a way as to make his proposal less repugnant. The self-correcting stylus may not exist yet, but OkCupid and other digital matchmakers are a mainstay of our digital lives.
The article rather boldly predicts that the computerized networks of the future will be even more important for communication than the "printing press and the picture tube"—another idea not taken for granted in 1968:
Creative, interactive communication requires a plastic or moldable medium that can be modeled, a dynamic medium in which premises will flow into consequences, and above all a common medium that can be contributed to and experimented with by all.

Such a medium is at hand—the programmed digital computer. Its presence can change the nature and value of communication even more profoundly than did the printing press and the picture tube, for, as we shall show, a well-programmed computer can provide direct access both to informational resources and to the processes for making use of the resources.
The paper predicts that the person-to-person interaction that a networked computer system allows for will not only build relationships between individuals, but will build communities.
What will on-line interactive communities be like? In most fields they will consist of geographically separated members, sometimes grouped in small clusters and sometimes working individually. They will be communities not of common location, but of common interest. In each field, the overall community of interest will be large enough to support a comprehensive system of field-oriented programs and data.
Google Now, Back Then
The article even hints at the veritable Internet of Things (which ostensibly justifies the high cost of gadgetry, or "data-gathering instruments"):