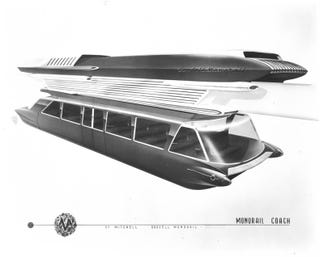 Getting people to the airport via train is a natural priority for cities around the country. When Minneapolis built its first light-rail line back in 2004 it had two major stops: the airport and downtown. But despite over two decades of modern Los Angeles embracing subways, there's still no train to LAX. And even if the city does build one, it probably won't look as cool as Goodell's sleek 1963 proposal above.
Now, it may surprise people who don't live in Los Angeles that the city has a functioning mass transit train system to begin with. It does and it's actually pretty slick. But one of the biggest complaints about the system is that there's no train to the airport.
Megan Gambino over at Smithsonian magazine took a look at some of the Los Angeles futures that never were, including the Goodell monorail design that would've run from downtown to LAX. It's just one in a series of many failed transportation futures dotting L.A.'s historical landscape, but for those of us who live in this upside down city, it's the one that probably stings the most.