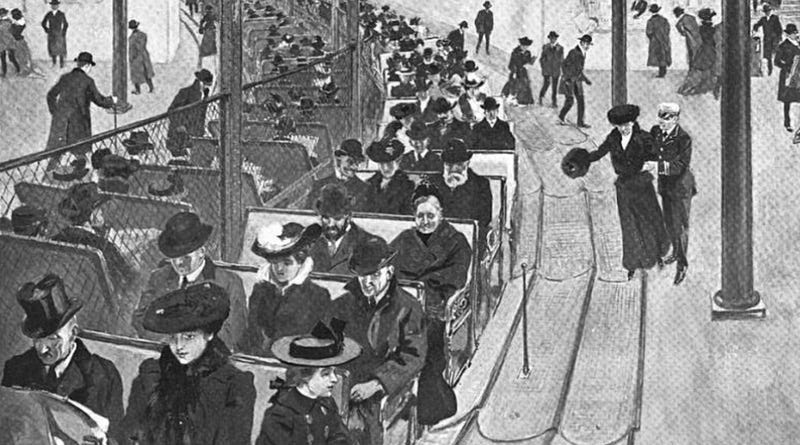 At the turn of the 20th century, the moving sidewalk was the future of urban transportation. As much as airplanes soaring in the sky and automobiles rumbling on the streets, the moving sidewalk represented a bold new vision for tomorrow. This idea of rolling pavement appealed to people in major cities who didn't yet see the rise of the automobile as inevitable and were looking for an affordable alternative to more elaborate infrastructure like subway trains. The 1903 vision above, drawn by Sydney Adamson, was supposed to be the fulfillment of every forward-looking New Yorker's dream.
Running at a top speed of nine miles per hour, this first underground moving sidewalk was supposed to connect Williamsburg and Bowling Green. From there, more would be constructed throughout the New York area. The plan was put before the New York Rapid Transit Commission and was said to have found support with prominent New Yorkers like Stuyvesant Fish. But alas, it wasn't meant to be.
The illustration above comes from the February 28, 1903 issue of Harper's Weekly, 10 years after the first moving sidewalk was constructed for public use at the 1893 Chicago World's Fair. The article that accompanied this illustration explained that it was time to take this mode of transportation out of the novelty stage and into practical use. The moving sidewalk was supposed to be just over the horizon, and New York wanted to get there first.