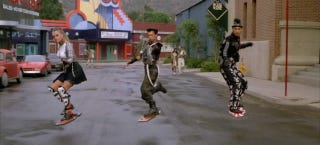 If the recent White House Correspondents Dinner has shown us anything, it's that politicians are the true masters of comedy in American society. Case in point: a recent joke proposal by a D.C. politician to install "hoverboard lanes" in the nation's capital.
You know... like bike lanes. Only they're for hoverboards. Because hoverboards are going to be a thing soon. Except that they're not, and the joke proposal actually just serves to remind us how far we are from the hoverboard future that kids of the 1980s and 90s were promised.
Washington, D.C. councilwoman Mary Cheh apparently produces a joke-filled budget proposal every year. This year she's floating the idea for hoverboard lanes in order to prepare for 2015 — the year that Marty McFly visits in the 1989 time-travel documentary Back to the Future II.