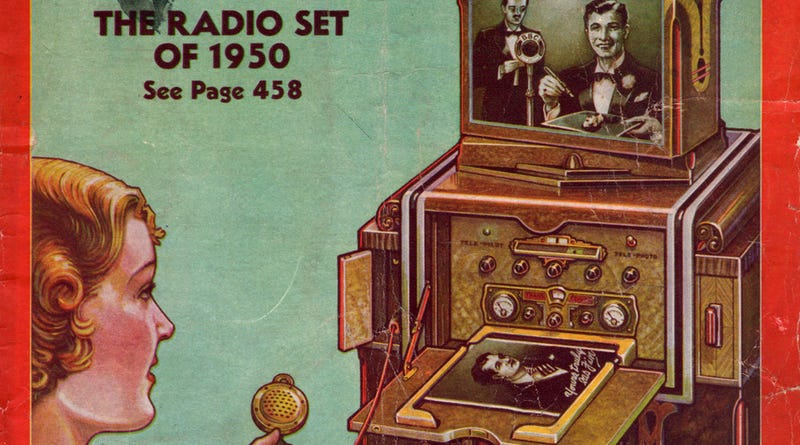 TV advertisers imagine that one day soon you might see a product on screen — say Don Draper's whiskey glass or Daenerys Targaryen's dress—and pause the program, click on the product and then instantly purchase it. Relatively primitive versions of this technology already exist, but the idea is far from new. Long before most people had even seen a TV set, this type of instant-purchase tech for television was already being imagined in the "radio" of the future. A radio set that also included TV with a swivel head, instant newspapers printed right at home, and a telephone that could reach the family car.
Unlike other early TV-developing countries, the United States embraced a commercial TV broadcasting model that was centered around advertising. But back in 1935, legendary sci-fi publisher Hugo Gernsback imagined a system for monetizing TV that wasn't solely dependent upon ads.
Some inventors were experimenting with exciting new wireless fax technologies in the mid-1930s, and companies like RCA were even delivering newspapers via radiowaves directly into the homes of early adopters. Gernsback imagined that this same technology (however noisey and cumbersome it was in the 1930s) might one day allow for TV actors and musicians to send out autographed headshots or any other printed material, which would be printed right from your television.