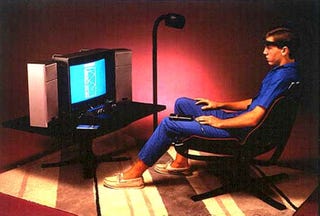 The tech industry is riddled with vaporware — those products that get a big public announcement, but never actually find their way to stores. And it's always been this way. Just ask investors who were throwing tons of money at airship companies at the turn of the 20th century.
Sometimes the people tasked with building the future get a little ahead of themselves. It's one thing to have vision. But delivering on that vision and bringing a product to market is often a lot harder than it looks.
Today we have a brief look at some of the most notorious vaporware to come out of the Consumer Electronics Show since it began in 1967. Many of these products would've revolutionized our relationship with technology. If only they weren't too good (or sometimes too silly) to be true.
GENUS the Robot (CES 1983)
Genus the robot was going to do everything: vacuum your floors, learn the floorplan of your house, play games, and work as a guard dog. Genus was even supposed to shake hands, provided you sprung for the optional "arms" package.
Journalists at CES 1983 couldn't say enough nice things about this futuristic Rosey the Robot come to life. Your personal household robot was finally here! Except that it wasn't.
Everyone thought that the 1980s was going to be the decade when domestic robots would finally invade American homes. But the 4.5 feet tall Genus, along with countless other robots of the 1980s, couldn't make that vision happen. The company that built Genus — Robotics International Corporation of Jackson, Michigan — claimed that this futuristic wonder-robot would be in stores by summer of 1983. The cost? Anywhere from $3,000 to $12,000, depending on which options you wanted.