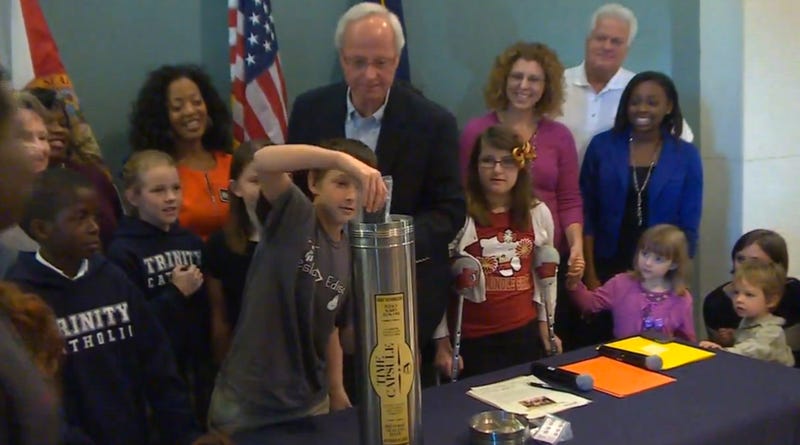 This week in our time capsule news round-up we have an iPhone in Florida ready to make a 110-year journey, a water-themed time capsule in L.A. that hopefully won't be a huge disappointment, and a peculiar hodgepodge of stuff in San Antonio from 1986 — including a Chili's menu and a weightlifting trophy.
Weightlifting Trophy Unearthed in San Antonio Two Years Late
A time capsule buried in San Antonio in 1986 was pulled from its temporary hiding spot this week—even if it was a couple years later than originally planned.
The time-traveling box included a few items that are incredibly common for 20th century capsules, including a phone book and some newspapers. But this particular capsule also had more than its fair share of wonderfully weird items, including old political signs, a weightlifting trophy, and a menu from Chili's.
The time capsule was supposed to be opened in 2011, but somebody "got their math wrong." When it comes to time capsules most people agree that it really is better late than never. Though judging by the angry comments I get whenever I post about time capsules younger than 100 years old, "never" might suit some of you just fine. [My San Antonio]
Florida County Seals iPhone, Letters From Kids in 110-Year Capsule
This past weekend Leon County, Florida sealed a time capsule which contains an iPhone, nearly a hundred photos, tape of a local newscast, and letters from children. As any regular reader of Paleofuture knows, those kids' letters to the future are pretty entertaining for the people of tomorrow. I suspect our kids here in the 2013 won't disappoint.