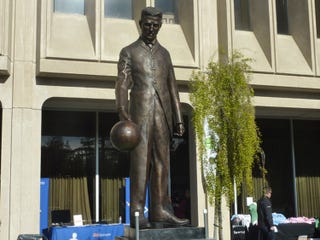 Our weekly round-up of time capsule news includes a group of kids in Ohio who sealed an Xbox into a capsule, the tragic story of a recently unearthed time capsule from 2003 that didn't fare too well, and a new Tesla monument in Silicon Valley that includes some predictions for the world of 2043.
Time Capsule Sealed for New Nikola Tesla Monument in Silicon Valley
A small crowd gathered in Silicon Valley last weekend to see the unveiling of a new monument to famed inventor Nikola Tesla. The crowdfunded 7-foot statue of the internet's favorite historical geek sits in Palo Alto and serves as a free Wi-Fi hotspot.