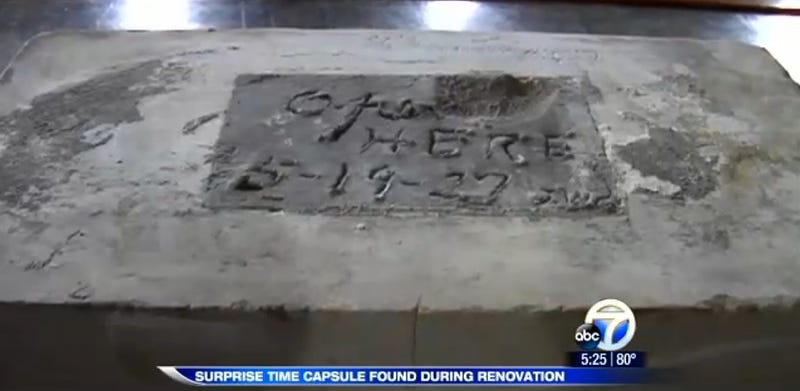 Today in our time capsule news round-up we have a mystery time capsule from 1927, some ideas for building your own back-to-school capsule, and former classmates in Connecticut who went looking for a time capsule but wound up finding each other. They didn't find the capsule though. It's nice they found each other, but I was really hoping they'd find the capsule. They didn't though. No capsule. Just each other.
Mysterious "OPEN HERE" Capsule From 1927 Will Be Opened This Sunday
This week, construction workers tearing up some old steps at a church in Jonesboro, Arkansas discovered a large hollow block with the words "OPEN HERE" and "5-19-27" scrawled in the concrete. Church officials there think it very possibly could be a time capsule. And who knows what's inside!
"Some people think there may be something mysterious in it, or maybe it's gold!" senior pastor John Miles told the local ABC affiliate.
Well, the pastor may be a little optimistic if he thinks there's gold in them there capsules. But you never know! I've been watching American time capsules long enough to know that 9 out of 10 will have the basics: some newspapers, probably a bible, a few coins and maybe a letter to the future. But that tenth time capsule — that time capsule with something really weird or valuable — that's what we live for. Tune in next week (or, I guess, go to the First Methodist Episcopal Church in Jonesboro this Sunday) to find out what's inside! [KATV]