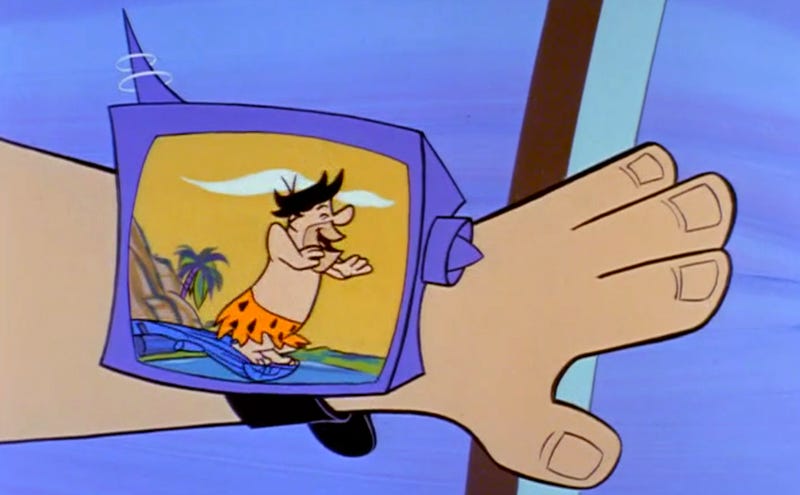 Welcome to the future! a Samsung rep proclaimed during the company's new product presentation in Berlin yesterday. Yes, something out of sci-fi! he beamed. The rep was wearing the new Samsung Galaxy Gear smartwatch, proudly showing it off for the journalists in the room and the tech geeks watching along at home. The future has arrived... again, I suppose.
Samsung's not alone. The next smartwatch revolution has begun in earnest, with a number of companies either releasing or hinting at releasing the stubborn little things. Sony and Qualcomm have both announced new wearable devices recently, and Apple is said to be developing its own (though no one expects them to release it any time soon). But with these new wearable computers comes a sense that if products like Galaxy Gear are the best that these companies have to offer, the smartwatch is going to remain a future that never was.
You might remember that much like the flying car and the jetpack, the multi-function wristwatch of the future has been "just around the corner" for decades now. We seem fascinated by the idea of attaching things to our wrists in order to ostensibly make them more convenient to use. But despite countless visions and real-life attempts, the smartwatch has never gained real traction.
What follows is just a small sampling of yesterday's smartwatches of the future. With so many failed smartwatch designs and predictions, anything approaching a complete history would be sheer madness. Not unlike the quest to develop a usable smartwatch itself.
1948's Brunetti Wrist-Watch Transmitter
The rise of the printed circuit in consumer electronics after WWII gave Americans a lot of hope for the possibility of strapping endless gadgets to our wrists. Dr. Cledo Brunetti worked at the National Bureau of Standards during the war, and gets a lot of credit for this push to miniaturization which would open the door to tomorrow's smartwatches.
It's Brunetti's design for a miniaturized radio wristwatch that graced the cover of Radio-Craft magazine in April of 1948 (seen above). Brunetti even has an IEEE award named after him, given out for contributions to "nanotechnology and miniaturization in the electronics arts."
From Radio-Craft:
When it became necessary, during World War II, to design extraordinarily small radio sets which, however, had to be extremely efficient at the same time, it was Dr. Brunetti who solved the host of problems which made those tiny radios possible.
Maybe the biggest flaw of Brunetti's radio wristwatch? It couldn't tell time. A minor oversight that would be quickly remedied when visions of the smartwatch picked up steam in the late 1950s and early 60s.
The Wristwatch TV of 1960
Like many of the technologies we take for granted today, much of the early development of electronic watches finds its roots in the Cold War. Advancements in miniaturizing circuits and smaller batteries in the 1950s and '60s eventually turned the wristwatch from a relatively crude mechanical device to an electronic wonder. And this shift was the primary driver that gave futurists wild ideas for miniaturizing just about any gadget and slapping it on your wrist, from TVs to telephones to calculators and beyond.
The April 17, 1960 edition of Arthur Radebaugh's Sunday comic strip "Closer Than We Think" included a vision of the TV wristwatch, complete with telecasts from the moon! Radebaugh's strip (much like Athelstan Spilhaus's "Our New Age" comic) was started shortly after the Soviets launched Sputnik, and was equal parts wide eyed techno-optimism and Cold War battleground.