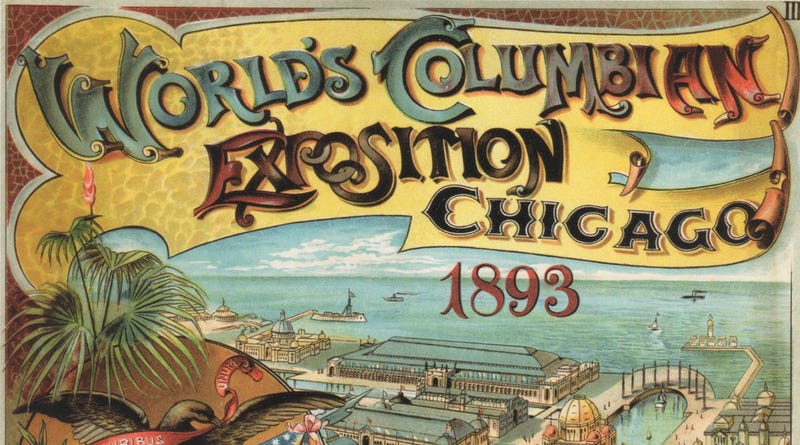 What would you do if you had a time machine? Go watch the ancient Egyptian pyramids being built? Hang out with Jesus and turn some water into wine? Kill Hitler, maybe? These are all, no doubt, noble endeavors. But I've often said—and I stand by this—that if I had a time machine, I'd go visit the 1893 World's Fair in Chicago.
The 1893 World's Fair (officially known as the World's Columbian Exposition to honor the 400th anniversary of Christopher Columbus landing in North America) was the fair to end all fairs. It was the fifteenth such exposition in the world, and only the second in the United States. Built on Lake Michigan, nothing about the White City was small; the 40-acre, 230-foot tall Manufactures and Liberal Arts Building was at the time the largest enclosed space ever built. But the scope of its buildings pales in comparison to the legacy of technological progress it left behind.
It's estimated that 1 in 4 Americans saw the Columbian Exposition in 1893, which is astounding when you consider that it was only open for just 6 months. Why do I wish I was one of the teeming millions (27 million by some estimates) who saw the Fair? Sure, there was gorgeous Beaux Arts architecture (which inspired Frank Baum when he imagined The Emerald City in The Wizard of Oz) priceless works of art, towering statues and plenty of food vendors. But there was also The Future.
Like others before it, the 1893 World's Fair was where inventors from around the world could show off countless new gadgets. But Chicago stands out for the tremendous breadth of its offerings, including primitive fax machines, new telephones, an electric railway, neon lights, and electric belts claiming to cure any number of ailments. The 20th century was just on the horizon, and people swarmed to Chicago to see what was in store.
As you may recall, I have a huge deadtree collection of all things paleofuture—books, magazines, photographs, etc. that I've been collecting for over six years now. Included in my archive is a collection of original World's Fair tickets. I've got tickets from the New York World's Fairs in 1939 and 1964, tickets for the 1900 Exposition in Paris, and even a ticket for the 1982 World's Fair in Knoxville (which people of a certain age will remember from a 1996 episode of "The Simpsons"). I also have a ticket to the 1893 World's Columbian Exposition, which you can see above.
So grab your ticket, and let's check out some of the coolest people, buildings, ideas, and tech that the 1893 World's Fair had to offer.
Chicago Forces Its Way Into The Future
In many ways, the 1893 fair was Chicago's attempt to get some respect on the national stage. People from New York considered Chicago a backwater town with not much to recommend it. But the city was intent on proving itself to those big-city New Yorkers and the rest of the world with a Fair for the ages.
As you can see from the poster above, Chicago wanted desperately to be known as the "Metropolis of the West" at a time when anything west of it was considered wild. Remember that in 1893 the United States only had 44 states — Utah, Oklahoma, New Mexico, Arizona, Alaska and Hawaii had yet to join the Union. Perhaps Chicago was "second," but by the late 19th century it had emerged as an economic and cultural force to be reckoned with. And this World's Fair was going to prove it once and for all.
Nikola Tesla's Display
The Fair included plenty of opportunities for inventors to show off their latest and greatest offerings. And legendary inventor Nikola Tesla's contributions included some fantastic examples of technology that would come into common use later in his life, along with some fun gadgets that were just for showing off.
In the latter category we find his spinning Egg of Columbus. In the former, that new-fangled AC motor. Tesla's presence was felt in more than just his display, though; his employer, Westinghouse, won the contract to illuminate the entire White City by vastly underbidding the project. So, in a way, Tesla's work—specifically his developments in AC power systems—touched virtually every part of the Fair.
In his 1996 biography of Tesla, Marc Seifer explains what was on display in 1893:
Tesla's exhibit, which occupied part of the Westinghouse space, featured a number of his early AC devices, including motors, armatures, and generators, phosphorescent signs of noted electricians, such as Helmholtz, Faraday, Maxwell, Henry, and Franklin, and a sign for his favorite Serbian poet Jovan Zmaj Jovanovich. Tesla also displayed vacuum tubes illuminated by means of wireless transmission, his rotating egg of Columbus, sheets of crackling light created by high-frequency discharges between two insulated plates, and other neon signs reading Westinghouse, and Welcome Electricians. These last two displays "produc[ed] the effect of a modified lightning discharge... accompanied by a similar deafening noise. This was probably one of the most novel attractions in a sensational way seen in the building, as the noise could be heard anywhere within Electricity Building and the flash of the miniature lightning was very brilliant and startling."
The Illuminated Egyptian Temple
A reproduction of an Egyptian temple from 1800 B.C. was a highlight of the Fair's Midway. But the Western Electric Company decided to build its own (much smaller) version of the Egyptian Temple display, complete with glowing electric lights inside.
The Western Electric display was intentionally provocative, with its intended clash of the new and the old. Egyptian graphics were made to look modern, with electric lights and even ancient Egyptians operating telephones. As a guidebook explained:
The next most prominent exhibit in the [Electrical] building is that of the Western Electric Company, of Chicago, immediately to the east of the main south entrance. This company has three pavilions, one as Egyptian temple paneled on the outside most uniquely with Egyptian figures and groups associated with electricity. For instance, there is a group of Egyptian maidens, of the time of Rameses the Second, operating a telephone board, and another group is of men of the same period laying telegraph lines. The conceit is very popular.
Below is a photo of the Egyptian temple's interior from the book The Chicago World's Fair of 1893: A Photographic Record by Stanley Appelbaum.
Elisha Gray's Telautograph
The telautograph was invented by American electrical engineer Elisha Gray and made its public debut at the 1893 Fair. An invention that was first patented by Gray in 1888, we might best understand it today as a primitive fax machine, converting handwriting to electrical impulses which could then be sent and reproduced across great distances.
Gray himself explained its potential to revolutionize the future of communications in an 1888 interview with The Manufacturer & Builder:
By my invention you can sit down in your office in Chicago, take a pencil in your hand, write a message to me, and as your pencil moves, a pencil here in my laboratory moves simultaneously, and forms the same letters and words in the same way. What you write in Chicago is instantly reproduced here in fac-simile. You may write in any language, use a code or cipher, no matter, a fac-simile is produced here. If you want to draw a picture it is the same, the picture is reproduced here. The artist of your newspaper can, by this device, telegraph his pictures of a railway wreck or other occurrences just as a reporter telegraphs his description in words.
A Deafening Noise in the Electrical Building
One of the downsides of all this futuristic technology present at the Fair had to be the overwhelming sounds. By most historical accounts, there was a deafening noise of machinery at the 1893 Fair. Apparently no one understood before the Electrical Building opened just how much noise would be produced when showing off all this technology in a confined space. During peak hours, many people left after just a few minutes when they were confronted with the noise of the machines. The noise of the future wasn't for everybody.
The Moving Sidewalk

I recently spent half a year looking at the 1962-63 TV show "The Jetsons," arguably one of the most important TV shows of the 20th century for its use as a cultural touchstone about the future. And the Chicago World's Fair presaged one of its key creations nearly 75 years before it went on the air.