Everybody knows that Omni was the coolest magazine of the 1980s, mashing up science, science fiction, and a healthy dash of pseudo-science. But what many fans of the magazine might not know is that it nearly had a different name. It was supposed to be called Nova.
Katy Keeton and her partner Bob Guccione, the publisher of Penthouse, were dead set on calling the magazine Nova. Until PBS lawyers got involved, that is. PBS already had a show called NOVA, which debuted in 1974. And PBS thought that Keeton and Guccione were capitalizing on their good name.
Ben Bova, former editorial director for Omni, described what happened in the foreword to the 2014 book, The Mind's Eye: The Art of Omni:
Meanwhile, the producers of PBS's Nova TV series sued Guccione, claiming that he was using the name of their show to promote his own endeavor. Over a frantic weekend, while Nova's first issue was being held on the press, Bob and his minions came up with the name Omni, which I thought was a much better title for the magazine.
By the sound of it, this really was a last minute decision to change the name. As you can see in the two-page advertisement below from the July 1978 issue of Scientific American, they were ready to run with Nova until PBS intervened.
G/O Media may get a commission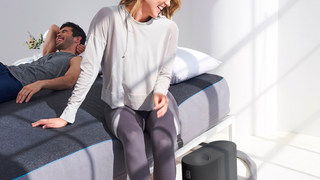 Eight Sleep Pod Cover
The first issue of Omni debuted in October 1978. But it's fun to think that somewhere out in the multiverse there's a timeline where Keeton's Nova won out. The skeptic in me imagines that this version also had about 10 percent fewer ghost stories.
NOVA cover scan from the July 1978 issue of Scientific American via Modern Mechanix