While visiting New York a few years ago I stopped in at the Paley Center for Media (formerly the Museum of Television and Radio). They have quite an extensive collection of TV programs that anyone can view, two at a time, for an admission fee. One of the shows I watched was an episode of the CBS show, The 21st Century hosted by Walter Cronkite. Titled "At Home, 2001" the episode aired on March 12, 1967 and is a wonderfully retrofuturistic artifact that shows off the technological advancements of a house in the future. The house featured in this episode will look familiar to those who've watched the 1967 Philco-Ford promotional film, 1999 A.D.
According to Cronkite, the home of the year 2001 will feature inflatable furniture, push-button kitchens, computers for educating Junior at home, and enormous TV screens. The episode talks to a handful of experts, including Philip Johnson who — as we know from this radio documentary from 1966 — wasn't terribly optimisitc for the future of innovation. Cronkite himself lived to see the first decade of the 21st century. I wish I'd been able to interview him about some of the changes he'd seen.
An excerpt from the March 12, 1967 edition of the Pasadena Independent Star-News appears below.
The home of tomorrow is the subject of "At Home, 2001" on The 21st Century, in color Sunday at 6:00 PM on CBS.

CBS News Correspondent Walter Cronkite is the reporter.

The broadcast will explore the promise of modern technology, architecture and city planning, as well as new ways of doing things in the home. Robots may help with housework. The kitchen might resemble a laboratory where cooking might be done in seconds by high-energy sound waves. The man of the house could conduct much of his business at home by electronic devices. The children of the 21st Century might be educated at home by a computer.

Whether tomorrow's home will be a thing of beauty, a tasteless suburban tract or a high-rise beehive also will be examined. Whatever it is, it is estimated that some 60 million homes will be built before the year 2001.
Longtime readers of Paleofuture might recall that we looked at another episode of The 21st Century a few years ago. titled the "Mystery of Life" that asked some hard questions about science's role in reproduction. In the episode, James Bonner argues that eugenics is the only way to breed out the undesirable traits in humanity, while Harrison Brown asks how things like "undesirable" might be defined.
This post originally appeared at Paleofuture.com.
G/O Media may get a commission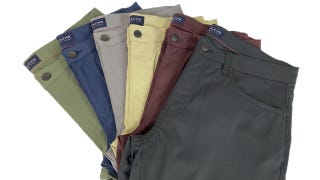 JACHS NY Fall Stretch Tech Pants